Are you ready for Easter?? It's coming right up on April 1st this year. We have fun plans in the works for a bunny brunch, egg hunts and I'm working on making our Easter menu. We don't travel for Easter and look forward to having a holiday at home.
I've picked up almost everything for my kid's Easter baskets and wanted to share them with you in case you were looking for some Easter basket ideas. I try to get them an item of clothing for Spring, new pair of shoes, favorite Easter candy, a couple of Easter items and a fun toy. I am still on the hunt for water shoes for Fletcher and some sunglasses. Almost all of these items are new and were recently purchased. I'll list them out for you and tell you where to find them.
Olive's Easter Basket:
(would be great for any 4-6 year old)
Bendy bunny, Peep bunny rings = Meijer
White mary janes = Walmart $4.97
Bunny mason jar, hopping bunny, tic tac toe = Dollar Tree
mermaid sequin bracelets, capsule animals & candy = Walmart
Butterfly dress = Target
This Cat & Jack dress is so cute! It comes in short and long sleeve. I just love the print, the price $9.99!! and am a sucker for anything olive green.
Click on the picture below to see all the details.
I was tempted to buy it in the long sleeve style, too. It's just $12.99.
Click on the picture to see all the details.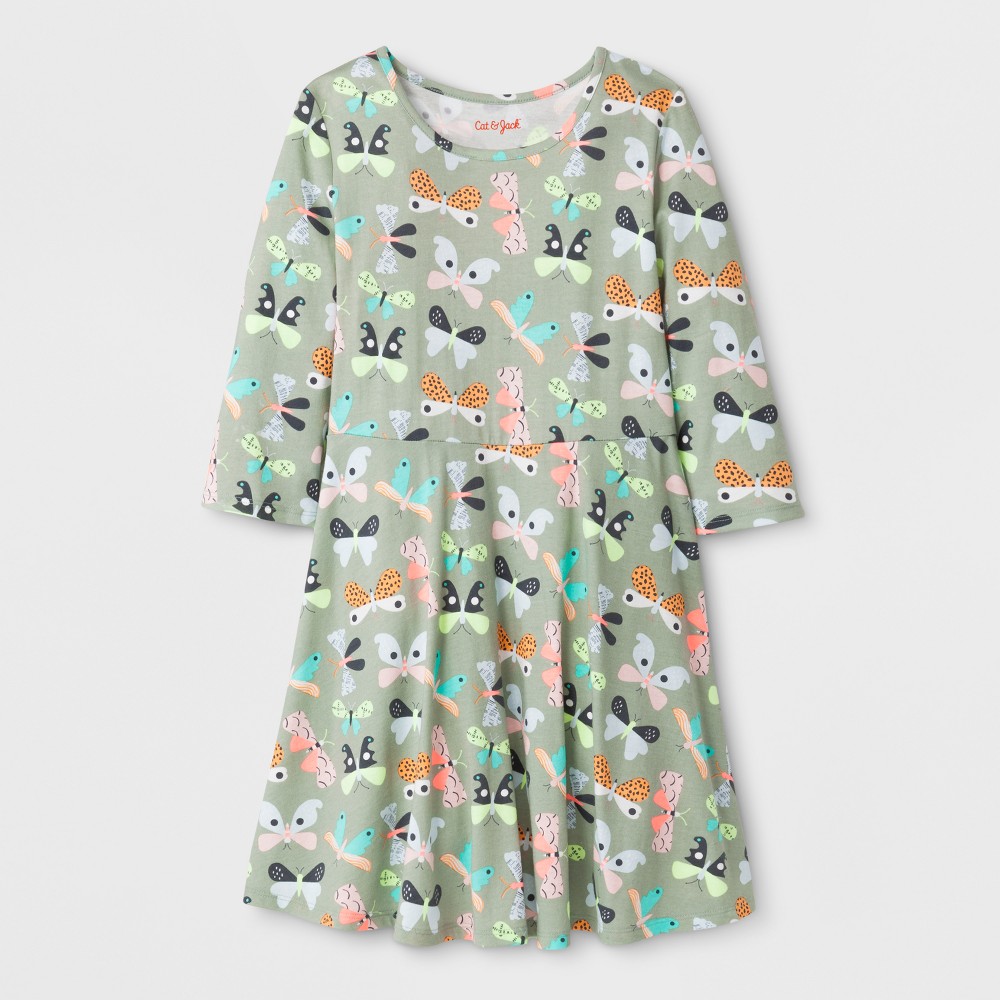 Fletcher's Easter Basket:
(Would be great for any boy 2-4 years old)
Firetruck - TJ Maxx
Polo - thrifted
velcro shoes - Meijer
Construction book set - Scholastic book o
Bendy bunny, Peep bunny rings = Meijer
Bunny mason jar & hopping chick = Dollar Tree
Capsule animals & candy = Walmart
Both kids are also getting kites in their Easter baskets. I found the cutest ones on amazon. They're solid colors, have great reviews and are really affordable. I ordered a yellow one for Fletcher and a pink one for Olive. There are six different color options. Can't wait for some kite flying weather.
It's no secret that I love celebrating holidays with my family. I am so excited to get to share the book So Much to Celebrate: Entertaining the Ones You Love the Whole Year Through by Katie Jacobs with you today. It is the prettiest cookbook I've seen in a long time. Each page is gorgeous. Every recipe has a picture to go with it. The table settings, party themes and photos throughout the book are magical. They're inspiring and Jacobs words are so encouraging. Her message of entertaining all year long is so sweet. She writes personal stories mixed in with her recipes and hosting tips. The pages of the book drip with Southern charm and you'll flip through the book dreaming of hosting your next gathering. The recipes all look delicious and don't seem complicated. It's books like these that make me want to forget about Pinterest and rely on beautiful books to inspire my party planning. The book is organized into seasons and is filled with ideas for hosting for each time of year. The built in book mark makes it easy to hold your place and reference recipes. I highly recommend adding this book to your personal library if you love to cook, love to host and love to celebrate the big and little moments in life.
*This book was gifted to me in exchange for an honest review of it.
We'll also be enjoying some Reese's Puffs bunnies. They're just as amazing as they sound. Along with reading age appropriate books to teach our kids about the real story of Easter. We are really enjoying both of these books.
PS Affiliate links included. Thanks for reading & supporting Polka-Dotty Place!