I'm rounding up my favorite Summer purchases for you today. I have lots of great things to share from Target, Sams, Matilda Jane, JCPennys, Old Navy and Amazon. I'll include links where I can, but I'm guessing since most of it is seasonal that you may have to check out your local stores.
Have you purchased anything you've loved this Summer?? Here are my favorites.
MATILDA JANE
I've mentioned loving Matilda Jane clothing before, but it is seriously SO CUTE. The fabric is very soft, the patterns are gorgeous and it washes/wears really well. My favorite time to stock up on their items is during their big sales. Their latest Good Luck Trunk sale was a great one. I got two dresses for Olive for Fall and Christmas and a top for myself. Usually the dresses run anywhere from $40-60 and their sale price is around $20. Same with my top. Be sure to watch for their sales!
JCP
I went int JCPennys a couple weeks ago on the hunt for a new swim suit. I really love this swim dress style right now. It's great coverage and I feel like I can walk around the pool without a cover up on while I'm chasing my kids. It's under $100 and I picked up mine during a half off sale. I've worn this style for several years and it's so flattering.
Azul by Maxine of Hollywood swim dress
OLD NAVY
I found three pairs of shorts that I LOVE at Old Navy. They were on sale recently - the bermuda shorts are such a great length and the lounge shorts are so soft. I struggle with finding shorts that I love so it was really exciting to find so many cute options here.
Slim Denim Bermudas for Women - I got the dark and light washes
Mid Rise Pull on Linen Blend Shorts - I got the jean fabric
TARGET
The Dollar Spot is PACKED with fun Summer things right now. It's almost impossible to link any of the stuff on-line. Just check your stores! Maybe one day the Dollar Spot online will catch up to the Dollar Spot in stores.
These giant Frisbees are so fun. They're probably 2ft wide and I think they will be a lot of fun at the beach. They were $3.
They have these huge sticker tablets, sticky sharks and just so many cute summer things. I got the stickers and the sharks for our upcoming trip to the beach. Here's an up close shot of the Frisbees - they're fabric and wouldn't hurt if someone happened to get hit with them.
These kid hats are SO CUTE! Dude for Fletcher and Olive picked out the flamingo hat. I think they'll be so nice for summer and for the beach. They were $3 each. They're adjustable and perfect for kids. I also stocked up on some more $1 sunnies. My kids love them. They both have big heads and they fit perfectly.
$1 paper straws in such cute patterns!
Cat and Jack Watermelon dress for Olive. It's the softest fabric and it's perfect for Summer. I think this dress was $14.
Click the dress to shop -->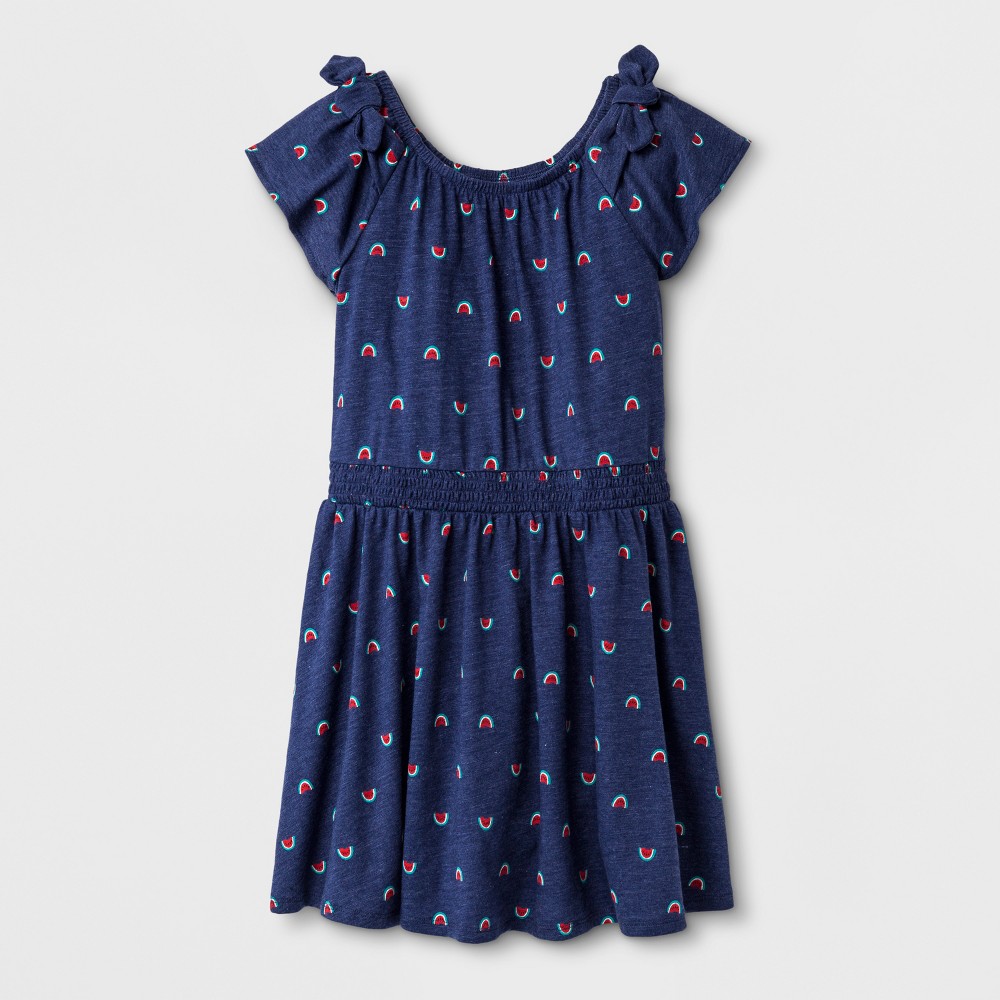 Pocket Cat & Jack tees for Fletcher. They were on sale for $4 each and super soft.
This tee was really funny - ketchup on the front & mustard on the back.
Glove A Bubbles - I mentioned these last week, but they've easily been our favorite outside toy from Sams. Dump bubbles in a bowl and let the kids dip their gloves in. They blow great bubbles when the kids wave their hands around
PS Some affiliate links included. Thanks for reading & supporting Polka-Dotty Place!
PPS I'm sorry that I haven't been able to respond to any of your comments since the beginning of June. Google changed some things and they are not currently emailing comments to bloggers anymore. I am hoping they get the issue fixed so we can get back to chatting over your comments. I've missed our conversations!!